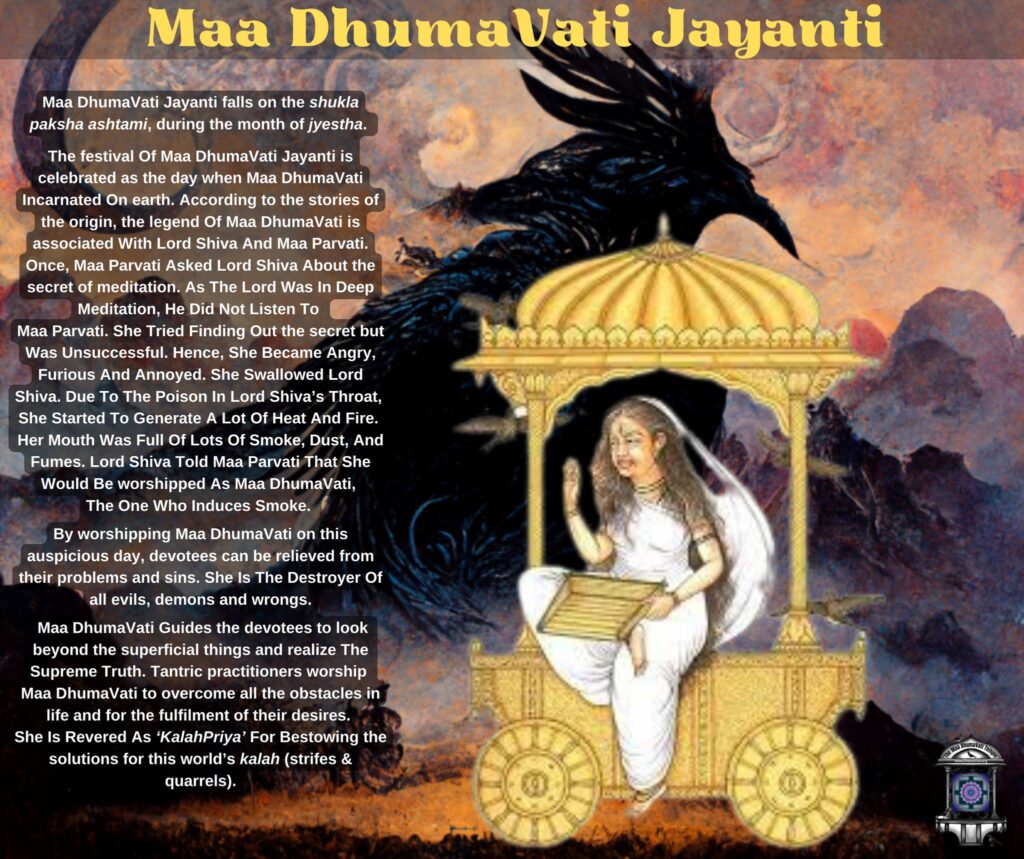 Maa DhumaVati Jayanti falls on the shukla paksha ashtami, during the month of jyestha.

The festival Of Maa DhumaVati Jayanti is celebrated as the day when Maa DhumaVati Incarnated On earth.
According to the stories of the origin, the legend Of Maa DhumaVati is associated With Lord Shiva And Maa Parvati. Once, Maa Parvati Asked Lord Shiva About the secret of meditation. As The Lord Was In Deep Meditation, He Did Not Listen To Maa Parvati. She Tried Finding Out the secret but Was Unsuccessful. Hence, She Became Angry, Furious And Annoyed. She Swallowed Lord Shiva. Due To The Poison In Lord Shiva's Throat, She Started To Generate A Lot Of Heat And Fire.
Her Mouth Was Full Of Lots Of Smoke, Dust, And Fumes. Lord Shiva Told Maa Parvati That She Would Be worshipped As Maa DhumaVati, The One Who Induces Smoke.

By worshipping Maa DhumaVati on this auspicious day, devotees can be relieved from their problems and sins. She Is The Destroyer Of all evils, demons and wrongs.

Maa DhumaVati Guides the devotees to look beyond the superficial things and realize The Supreme Truth. Tantric practitioners worship
Maa DhumaVati to overcome all the obstacles in life and for the fulfilment of their desires.
She Is Revered As 'KalahPriya' For Bestowing the solutions for this world's kalah (strifes & quarrels).